Children's Nutrition with Standard Process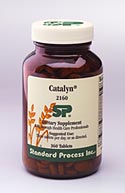 Children's nutrition is very important. Children who are well-nourished stay healthier and have the energy to grow.
Standard Process has six whole food supplements, including their Catalyn (Chewable) multivitamin, designed to provide proper nutrition for growing bodies. To learn more about proper nutritional building blocks for children, click on the link below.
Children's Nutrition with Standard Process



---